ซอฟต์แวร์โพสต์โพรเซสซิ่ง 3 มิติที่ชาญฉลาด ใช้ง่าย ทันสมัย
ซอฟต์แวร์ครอบคลุมการใช้งานตั้งแต่ Scan-to-CAD สำหรับงานควบคุมคุณภาพและวิศวกรรมย้อนกลับ (Quality Control & Reverse Engineering)
มีฟีทเจอร์การใช้งานแบบadvanceสำหรับtextureงานสแกน
ประมวลผลข้อมูลได้อย่างง่ายดาย มีขั้นตอนน้อย ประหยัดเวลา
Whether you choose Autopilot for ease-of-use or
manual mode for full control and flexibility,
Artec Studio never compromises on precision.
The software provides you with all the tools
you need for achieving high accuracy.
Time-saving quality control
Fast measurements and mesh to CAD analysis right
in Artec Studio. Fully compatible with Geomagic
Control X for advanced inspection.
Accelerate your engineering by fitting primitives
to your 3D model and precisely positioning it.
Export STEP files direct to SOLIDWORKS, or complex
meshes to Design X or Geomagic for SOLIDWORKS.
Use Artec Studio's host of advanced automatic
tools, including enhanced color reproduction
and Auto Glare Removal to create vivid color
3D models ready for CGI and 3D printing.

Artec Studio has always been built for speed.
It features cutting-edge, powerful algorithms
to process your data in seconds.
Create and process huge datasets
Imagine a software so powerful you can work
with datasets of up to 500 million polygons.
Artec Studio is perfect for scanning large objects
and for making 3D models in maximum resolution.
Export your model to the industry's best
reverse engineering and 3D modeling software
Hassle-free export into a wide range of formats:
CAD: STEP, IGES, X_T        Measurements: CSV, DXF, XML
Mesh : OBJ, PLY, WRL, STL, AOP, ASC, Disney PTEX, E57, XYZRGB      Point cloud : BTX, PTX
Choosing the right 3D software.
Artec Studio version 15 , 14 , 13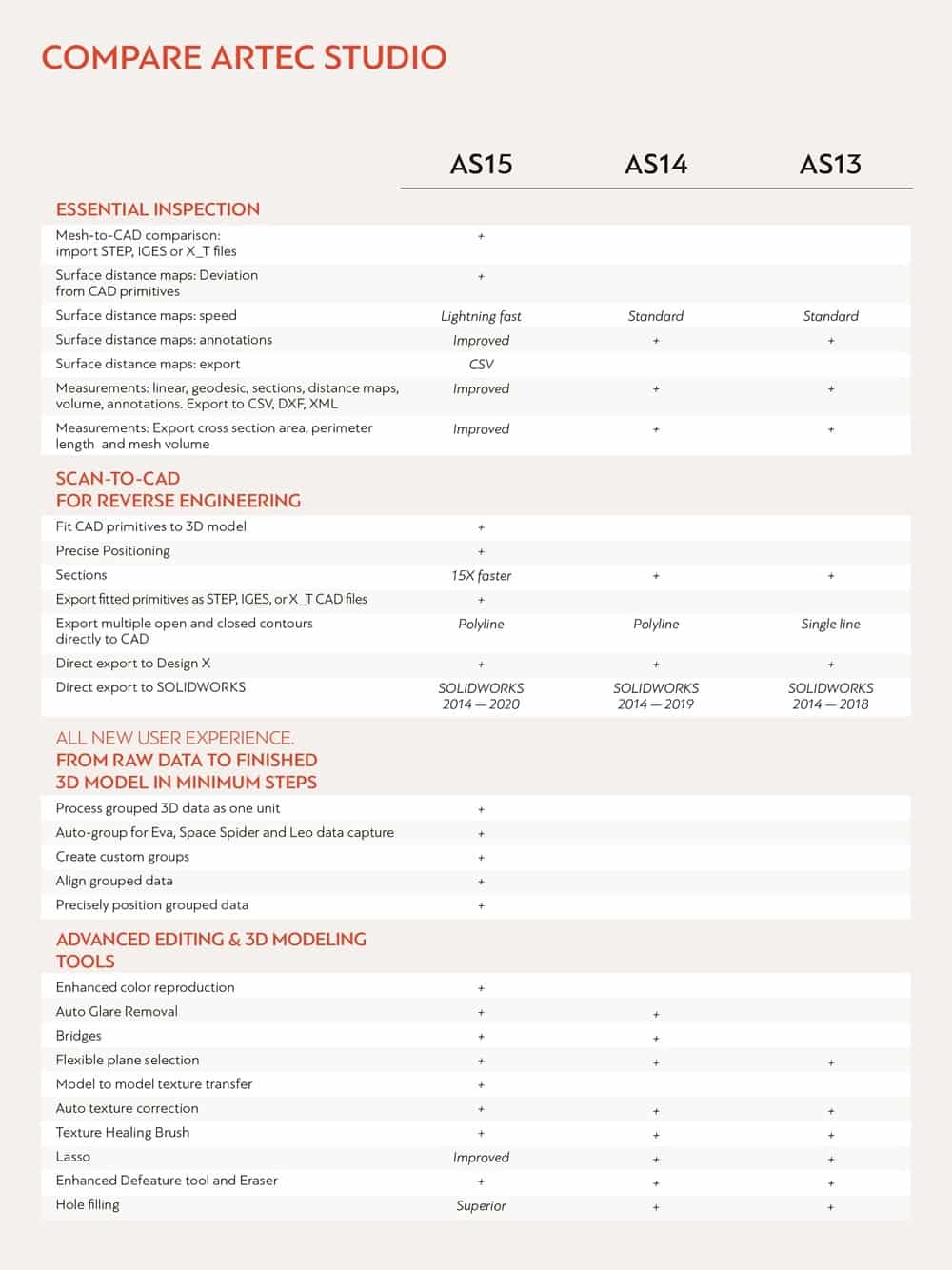 To start using HD Mode, you need an Artec Eva or Leo scanner with an active Artec Studio 15 license, and a compatible PC.